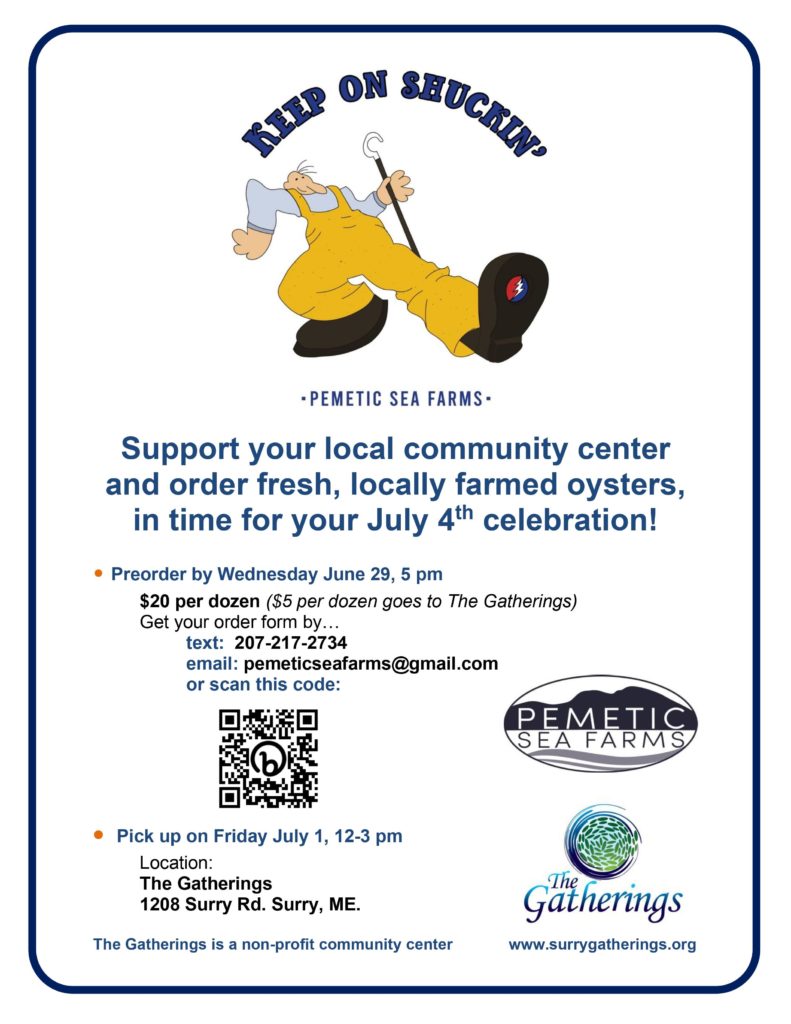 SPECIAL OYSTER FUNDRAISER
Order now for your July 4th celebration!
Pemetic Sea Farms has partnered with The Gatherings to offer our community a chance to buy fresh, locally raised oysters and support all the groups who use The Gatherings for their activities. Two varieties of oyster will be sold for $20/dozen with $5/dozen going to The Gatherings. Pemetic Morning Dews are farmed in Union River Bay by Pemetic Sea Farms, and Petit Manan Oysters, farmed in Dyer Bay by Petit Manan Oyster Company.
The oysters must be preordered by Wednesday June 29 at 5 p.m. using the online order form at https://bit.ly/3mYNzp0 or by contacting Pemetic Sea Farms directly at pemeticseafarms@gmail.com or 207-217-2734
Pick up will be on Friday, July 1, 12-3 pm, here at The Gatherings!

Sign up to our newsletter and follow us on Facebook to make sure you don't miss a thing!

June 2022. The Gatherings community center is open to the public for those who wish to use it at their own risk. Visit the Events & Activities page to see what's happening this month, such as our Oyster Fundraiser, Magic Food Bus and Ukulele Jam!
DONATE NOW!
It's easy to donate online, as a one-off or as a recurring gift, click here.
Or mail your check to The Gatherings, P.O. Box 62 Surry, ME 04684.
Your generous support helps keep the community center open – thank you.
NEW FACILITIES! We now have an EV Charging Station for 2x electric vehicles. There is a $2/hr fee to cover electricity costs. Next to the garage is also an electric bicycle rack & charger. The station is open to the public and can be used at any time. For more info visit plugshare.com/location/316196
SPACE TO WORK AND PLAY. In addition to public & private groups using the community center, students and remote workers can take advantage of the Wi-Fi and space away from home distractions. Gatherings of family and friends can make the most of the large open rooms for getting together at a safe distance. If you would like to rent this space, see our Building Use page.
Note: Some photos on this site were taken before the pandemic.