NEW GROUPS AND SPECIAL EVENTS
Is there something you'd like to see happening here? Let us know what activities you'd enjoy at The Gatherings and learn how you can get involved.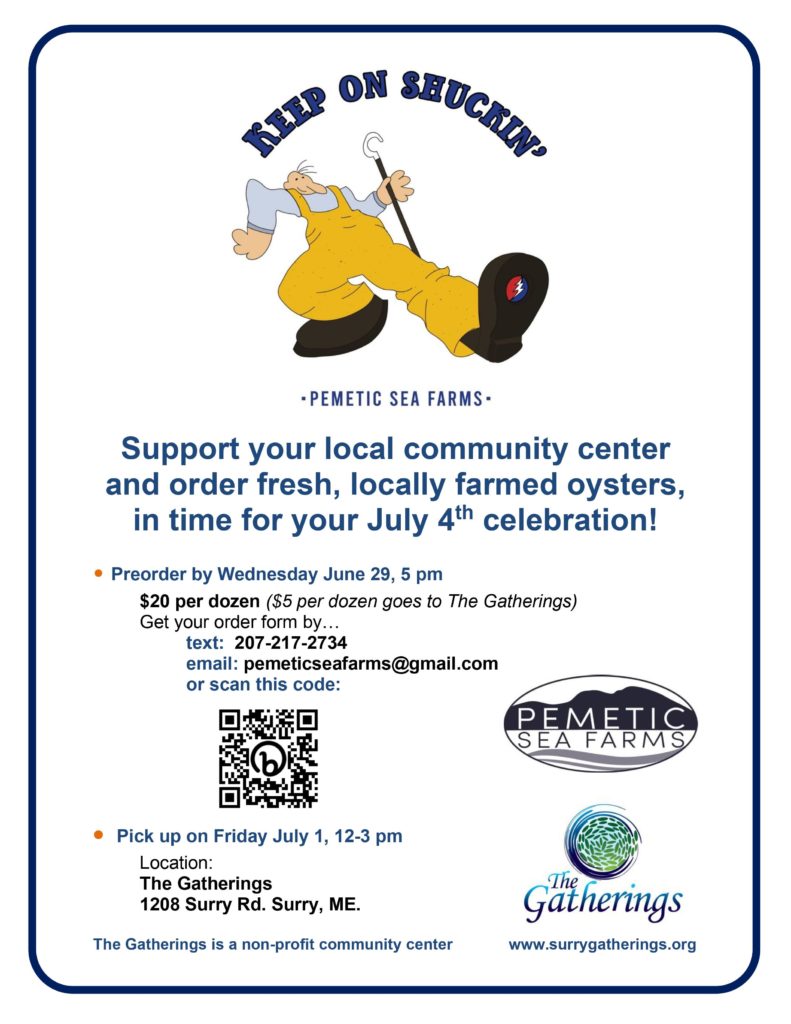 NEW! SPECIAL OYSTER FUNDRAISER
Order now for your July 4th celebration!
Pemetic Sea Farms has partnered with The Gatherings to offer our community a chance to buy fresh, locally raised oysters and support all the groups who use The Gatherings for their activities. Two varieties of oyster will be sold for $20/dozen with $5/dozen going to The Gatherings. Pemetic Morning Dews are farmed in Union River Bay by Pemetic Sea Farms, and Petit Manan Oysters, farmed in Dyer Bay by Petit Manan Oyster Company.
The oysters must be preordered by Wednesday June 29 at 5 p.m. using the online order form at https://bit.ly/3mYNzp0 or by contacting Pemetic Sea Farms directly at pemeticseafarms@gmail.com or 207-217-2734
Pick up will be on Friday, July 1, 12-3 pm, here at The Gatherings!
NEW! Magic Food Bus
The Magic Food Bus makes scheduled stops all over Blue Hill Peninsula and Deer Isle/Stonington each week, delivering free, fresh veggies and good books. It is at The Gatherings from 2.30pm – 3.15pm every Thursday, on the porch (not an actual bus!). Donations accepted but not expected.
For more information contact Kate at k.mrozicki@gmail.com
https://healthypeninsula.org/initiatives/eating/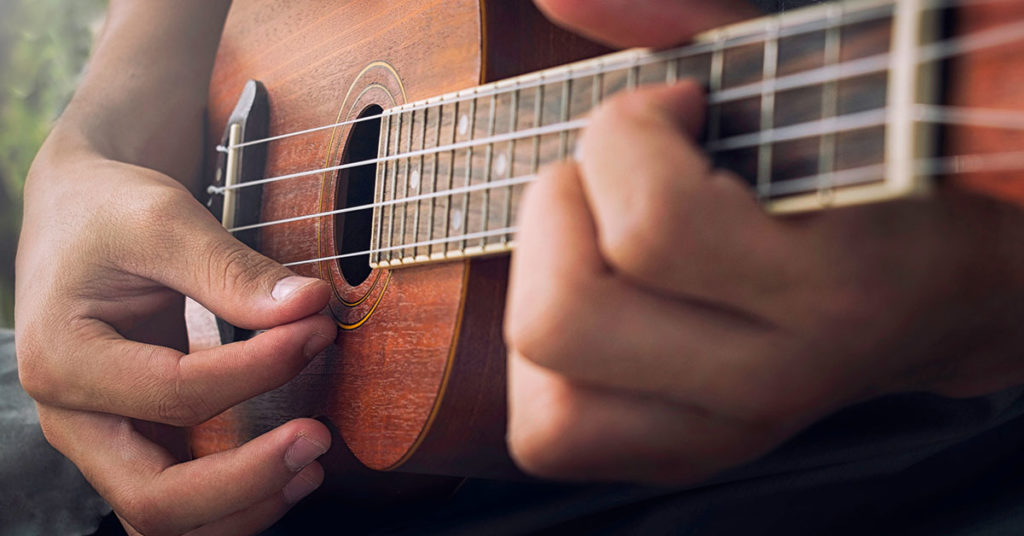 NEW! Ukulele Jam
Every 1st and 3rd Thursday at 5.30pm, there will be a new for-fun ukulele get-together! Using the big screen to pull up songs, we'll sing and strum some tunes. This will not be a "class", but ukes are easy to play together at different skill levels, so beginners are definitely welcome. $2/person goes to The Gatherings.
Contact Alice at 207-385-7694 or alicekslater@gmail.com
facebook.com/events/520109759473483/
ONGOING GROUPS
Yoga with Nya Mon 5.30pm / Thu 7pm / Sat 7.30am / Sat 10am. Various yoga classes including Vinyasa, Deep Stretch and Prenatal – see calendar for details. $10-$20/person. yogawithnyarose.com
Life Drawing Wednesdays 10am – noon. Artists age 18+ sketch each week from live models using a variety of drawing media; from charcoal and pastels to colored pencils. These uninstructed sessions are open to the community and all skill levels are encouraged to attend. Masks required. $17/person. facebook.com/events/523200215815356/
Spanish Conversation Wednesdays 5.30pm – 6.30pm. This is a group meeting for people wanting to practice their Spanish conversation – all levels are invited! $2/person. facebook.com/events/497474118691604/
Girl Scouts 2nd & 4th Thursdays 4.30pm – 6pm. Surry Girl Scout Troop #823. For ages K – 5th grade. Meetings during the school year.
Ukulele Jam 1st & 3rd Thursdays at 5.30pm. Easy-going ukulele group – beginners welcome! facebook.com/events/520109759473483/
Surry Children's Backpack Program Fridays 8am – 10am. A charity organization committed to weekend food security for Surry's school aged children. New volunteers welcome. facebook.com/SurryBackpackProgram
Dungeons & Dragons usually meets alternating Fridays 4.30pm – 7pm. This is a family-friendly club for all those looking to play D&D or other tabletop role playing games to come together and enjoy an adventure together.
Pregnancy Women's Circle, Saturdays at 9am, is a free weekly gathering for pregnant women to get to know each other and prepare for their Birth Ceremony together, with tea, music, meditation, dream birth stories, pregnancy experiences, and socializing. yogawithnyarose.com
Chicken Feed Pickup various Saturdays once a month at 10am. See calendar. Cooperative bulk-buy of organic locally grown chicken feed. Book feed in advance. facebook.com/events/453680426492252
Cub Scouts meet at The Gatherings Sunday afternoons from 3-4pm during the school year. For ages K – 5th grade.
Game Night every Sunday at 6.30pm. We play new & old board games, card games, dice games, word games, tile games, team games… bring your favorites! $2/person. facebook.com/events/3103913629894822
POSTPONED Art Studio Mondays 9.30am – noon. Welcome Artists and Craftsmen! Whether you are an accomplished artist or a beginning craftsman, you are invited to work on your latest project at our Arts and Crafts Studio. Bring your own materials, and those of us present will add friendly conversation and support!
NOW AT TOWN OFFICE Magic Food Bus Thursdays 2.30pm. The Magic Food Bus offers fresh local food and books for residents to pick up free of charge on the Peninsula. It visits The Gatherings at 2.30pm every Thursday and stays for 45 minutes. healthypeninsula.org/initiatives/eating/
POSTPONED Craft Connection 4th Thursdays 6.30pm – 8.30pm. Bring your sewing, painting, knitting, woodworking and other art / crafting projects to work on, in a community setting! $2/person. facebook.com/events/724076262087670/
POSTPONED Food with Friends every First Friday at Five! Community potluck. Bring a dish to share. We hope to kick this off as soon as it's safe. Every First Friday at Five o'clock, join friends, new and old, for a community potluck at The Gatherings. There's no admission, but we hope most will bring food or drink and put something in the donation box.
POSTPONED Card Game "83" is every 2nd Sunday 6:30pm – 8pm. As part of Maine's bicentennial, we are reviving this old-time Maine card game. Learn & play with those who played it as long as 70 years ago! We hope this can be part of delayed bicentennial events in 2021.
POSTPONED Youth Open Mic and Potluck last Sunday of each month at 6pm. Live music and potluck in conjunction with Truth Virus Records. Young musicians and singers are welcome to bring their instruments and voices, to perform alone or in groups.